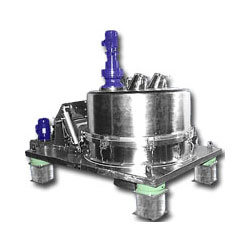 The Chemo Fab Bottom Discharge Centrifuge in cGMP execution are mainly used in the pharmaceutical and fine chemical industries. This equipment is suitable for products requiring a wide filtering surface and is processed in closed environment. The complete cycle is carried out without the contact between the product and the operator. The operations are automatic and achieved with the help of PLC (Programmable Logic Control). The process of filtration is like other type of centrifuges, the difference being in the method of unloading the Solids. After hydro-extraction and with the basket rotating, the filter cake is peeled layer by layer by means of a peeling knife. The filter cake is discharged through openings provided in the Basket base plate and hopper below the centrifuge.
Special properties for the benefit of the customer
Small footprint.
cGMP compliant.
Automatic operation via PLC.
Toxic, allergic or hazardous material can be safely handled.
Multipurpose application through CIP cleaning.
Easy accessibility of all machinery parts in contact with the product.
Additional Features
Full Body Opening for excellent accessibility for cleaning and maintenance.
Cleaning in Place.
Cake Thickness Monitoring System.
cGMP Construction.
Heel Removal System enables regenerating of filter media.
Vibration Tripper.
Zero Speed Interlocking.
| | | | | | | | | |
| --- | --- | --- | --- | --- | --- | --- | --- | --- |
| Model | Basket Dia | Basket Height | Basket Speed | Filtration Area | Centrifugal Force | Working Capacity Under Lip | Maximum Basket Load | Motor Power |
| Units | mm | mm | rpm | m2 | G | ltr. | Kgs. | Hp |
| CFI 24 | 610 | 305 | 1450 | 0.5 | 720 | 45 | 50 | 3 |
| CFI 36 | 915 | 510 | 1000 | 1.32 | 510 | 200 | 230 | 7.5 |
| CFI 48 | 1220 | 510 | 900 | 1.76 | 555 | 310 | 370 | 15 |
| CFI 48-H | 1220 | 610 | 900 | 2.15 | 555 | 380 | 440 | 15 |